For just $10 per year you can be a card-carrying member of the Euclid Democratic Club. Attend regular club meetings to meet elected officials, candidates and your fellow Euclid Democrats. Meetings are conducted hybrid, both in person and via Zoom.
Today it's easy to live in a city and not even know your neighbors. The Euclid Democratic Club's members are of various ages, races, genders, occupations and interests. One thing unites us: we are all Democrats.
Ever wonder who the judge candidates are on your ballot? The Euclid Democratic Club gives you an opportunity to meet them and hear what they believe in. It can help you learn more about our government and the people who run it and seek to run it.
Since 1993
The Euclid Democratic Club
The Euclid Democratic Club has evolved over the years to keep pace with changes in our community. But at its core it is still a place for Democrats to gather for shared activism and fellowship.
The Club has participated in the Relay for Life, Memorial Day Parade, voter registration and other activities.
We welcome all Democrats to sit in for a meeting to learn more and to join us.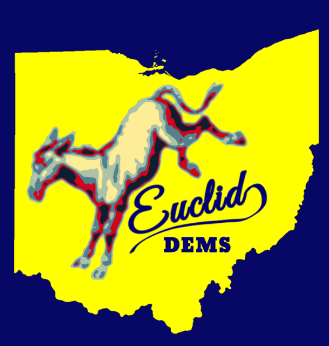 Join our mailing list
Receive periodic announcements of special Club events and regular meetings. Click here